The Go-to Siding Contractor in Pasadena, MD
Pasadena area homeowners are recommending Chesco Remodeling LLC to their friends and family!
Want to boost your home's curb appeal? This is sure to happen with a new siding installation. At Chesco Remodeling LLC, we use products from top manufacturers. CertainTeed makes it easy to design a complete exterior using various elements working together. Offering a wide variety of siding products and materials, no other manufacturer offers sophisticated visualization tools to help you find just the right combination for your home's exterior. And no other siding manufacturer makes it easier to get all of these components from one source. If you need help with design, we have the tools for you!
Siding Replacement
Are you tired of looking at worn-out siding? Have recent storms damaged your siding? Is your siding beginning to crack, warp or bubble? All of these indicate that it's time to replace your siding. Let our team help revitalize your home's exterior with a quality siding replacement.
We pride ourselves on delivering unparalleled siding replacement services backed by years of industry expertise and a commitment to customer satisfaction. When you choose Chesco Remodeling LLC, you will not only receive top-notch customer service with prompt communication but your siding will be replaced with the top brand of siding materials.
Weathered siding can diminish your home's beauty and worse, compromise its ability to keep your interiors safe and dry. So don't hold off.
Ready to give your home a stunning makeover and protect it for the long haul? Contact us now to schedule a no-obligation consultation with one of our siding experts. We'll assess your current siding, discuss the best options, and provide you with a detailed quote for your siding replacement project.
How do I choose my new siding?
Choosing which siding type you want depends on several factors. These are usually maintenance considerations and costs. Vinyl siding is the most requested and budget-friendly of them all. Wood siding gives you that undeniably beautiful look, but it comes with a higher price and the possibility of pesky insects. HardiePlank, made of fiber cement, is manufactured to look like wood siding, resistant to insects, but it is more expensive than vinyl and requires painting. With so many choices..here's the great news!..we can mix and match for a custom look!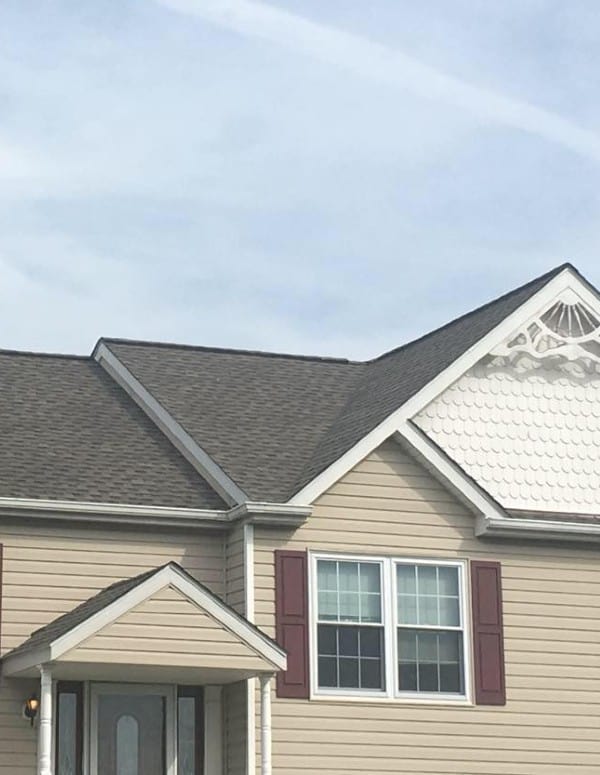 Vinyl siding options
Vinyl siding offers amazing insulation R-value options for our cold winters here in Maryland. It's mostly maintenance-free other than occasional cleaning with soap and water. CertainTeed vinyl siding and trim comes in a wide array of color choices, shapes, and textures to get just the look you want;
Lap Siding (horizontal)- CertainTeed has one of the largest portfolios of lap siding
Shake and Shingle- CertainTeed's line of shake and shingles look the most like cedar shakes but without the high maintenance
Board and Batten (vertical)- Wide and narrow alternating vertical panels for beautiful design; architecturally unique
Stone Facade Veneer- CertainTeed's panelized system to mimic natural ledge stone
Soffit- For porch ceilings and roof ventilation
Exterior Trim- CertainTeed's trim to highlight architectural features
Call today for your free siding installation estimate!
We are the siding installation experts in Anne Arundel County making homes across our area beautiful! Our vinyl siding contractors are experts in residential siding so reach out today if you need help with design! You'll not be disappointed with our service and dedication to our customers. We offer military and senior discounts. Chesco Remodeling LLC is located in Pasadena, MD serving surrounding areas including Severn, Severna Park, Annapolis, Glen Burnie, Millersville, Odenton, Hanover, Arnold, Davidsonville, Gambrills, Catonsville, Dundalk, and Halethorpe, Maryland.
Recent Local Siding Projects
Check out a couple of our most recent siding replacement jobs in Pasadena. You can see more siding replacement jobs we've done for clients on our projects page.