Chesco Remodeling LLC is your leading local decking contractor
We specialize in building custom-built decks for homes in Pasadena, MD, and the surrounding areas. Our deck builders are great at taking your designs from a simple napkin drawing and creating a deck just perfect for your family and friends! 
Whether you are looking to install a brand-new deck, restore a weathered one, or repair it after a storm, our contractors will do the job right. We are licensed and fully insured and strive for 100% customer satisfaction.
Additional building services include gazebos, pool decks, railings, and other customized outdoor spaces. If you are in need of exterior or interior renovations, we can help.
Building a New Deck in Pasadena, MD
Whether you are replacing an existing deck or want to build on a new deck to your home, Chesco Remodeling is the right deck builder to do it. We take care to ensure that your deck is built as structurally sound as it is aesthetically pleasing. We also want to ensure you have the best possible experience during the whole process.
The process starts with an estimate. One of our experts will meet you at your location to examine the area and hear your vision. They will discuss options and help answer any questions you have at that time. Based on your needs we will provide an estimate within a couple of days.
At the time of installation, our team can dismantle the old decking, removal and dispose of any old stairs and materials, prepare the area and of course install the deck. We will also ensure proper permits and communicate needs with the client throughout the process.
Once the deck installation is complete, we will perform one last inspection before cleaning up the space.
Whether you have an exact vision or simply want to improve your home's functionality and aesthetical appeal, our team wants to ensure that you are left with a deck you can be proud of.
How to choose the right decking
Wood, composite, or vinyl? Each has its benefits. We specialize in custom deck building and that includes choosing the right materials or combination of materials to give you just what you want. Whether you're including built-in seating, covered decks, a built-in spa, or multi-level decking, let's first choose the right material for your deck and railings!
Wood- Readily available, easy to install, typically the most affordable decking, and can be stained any color. Needs to be stained regularly, and can warp.
Composite- Beautiful, many colors, longer-lasting, no warping or splinters; can begin to fade over time in direct sunlight.
Vinyl capped composite-same great benefits of composite but has a vinyl coating that adds a layer of protection for a more durable surface free of moisture or fading.
Vinyl- designed to be incredibly durable, versatile, and to have low maintenance requirements. Especially popular for railings.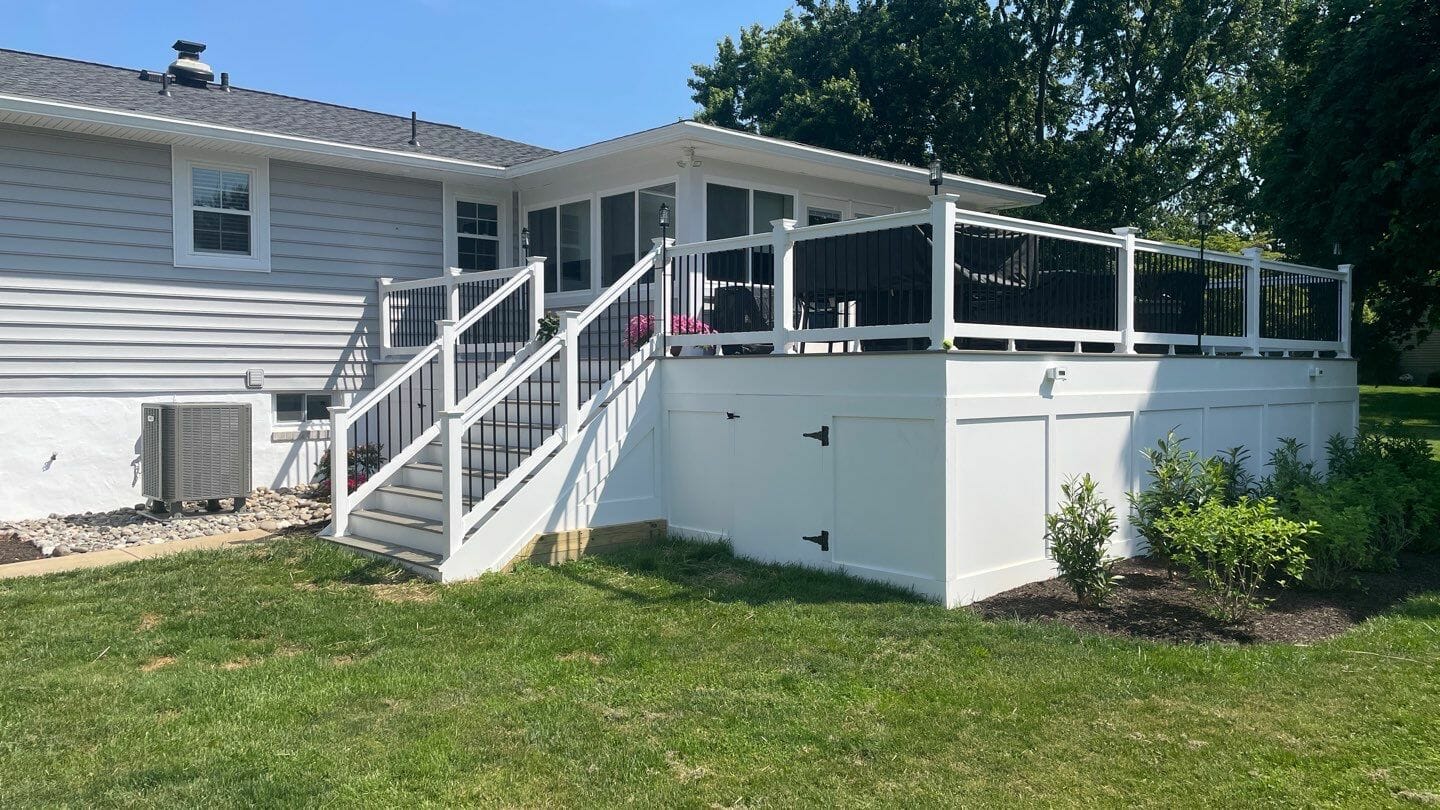 Deck Restoration Services
Deck restoration is a more affordable way to restore a weathered deck without the need to replace it entirely. Over time, decks can wear out causing them to lose their beauty and making them susceptible to further damage. With our deck restoration services, your deck will look better than ever.
Our team of decking contractors will clean your deck, inspect it for structural issues, replace damaged or broken boards and finish the deck with a high-quality stain based on your preferences.
When to restain your wood deck
Staining your deck not only highlights the beautiful wood grain and improves its overall appearance, but it will also increase its lifespan by preventing wood rot and insect infestation. A wooden deck will, however, need to be re-stained throughout its lifetime. Direct sunlight can cause your wood deck to appear faded or dry. Rain will cause damage over time as it soaks into the wood and repeatedly endures temperature fluctuations. Foot traffic over time will begin to wear on your wood deck as the dirt beneath people's shoes, or animal's paws, begin to scratch the surface like sandpaper.
Should You Restore or Replace Your Existing Deck?
As a homeowner, you want to make sure you are making the best decision for your home. Should you restore your old deck or take it a step further and replace the entire deck?
The answer depends on your unique needs. As a good rule of thumb, if the deck is structurally sound and you want to bring it back to its former glory then a restoration may be an ideal solution. If the deck has structural issues, has extensive damages, or you're looking to make changes to its design, then replacing it might be best.
To know for sure, speak with one of our decking experts. They can inspect your deck and provide an honest recommendation based on what's best for you.
Let's talk about your new deck project!
Decks are a great way to get more out of your backyard. They can be used for hosting family gatherings, eating blue crabs, playing games, or just basking in the sun while relaxing with friends and family! We work hard for our customers and continue to provide affordable home improvements to homeowners in Pasadena, Severn, Severna Park, and the surrounding areas. Give us a call at 443-710-9133!