As a recognized leader of decking contractors, Chesco Remodeling LLC is the right choice for your project!
We specialize in building custom-built decks for homes in Pasadena, MD, and the surrounding areas. Our deck builders are great at taking your designs from a simple napkin drawing and creating a deck just perfect for your family and friends! Additional building services include gazebos, pool decks, railings, and other customized outdoor spaces. We are licensed and fully insured and strive for 100% customer satisfaction.
How to choose the right decking
Wood, composite, or vinyl? Each has its benefits. We specialize in custom deck building and that includes choosing the right materials or combination of materials to give you just what you want. Whether you're including built-in seating, covered decks, a built-in spa, or multi-level decking, let's first choose the right material for your deck and railings!
Wood- Readily available, easy to install, typically the most affordable decking, and can be stained any color. Needs to be stained regularly, and can warp.
Composite- Beautiful, many colors, longer-lasting, no warping or splinters; can begin to fade over time in direct sunlight.
Vinyl capped composite-same great benefits of composite but has a vinyl coating that adds a layer of protection for a more durable surface free of moisture or fading.
Vinyl- designed to be incredibly durable, versatile, and to have low maintenance requirements. Especially popular for railings.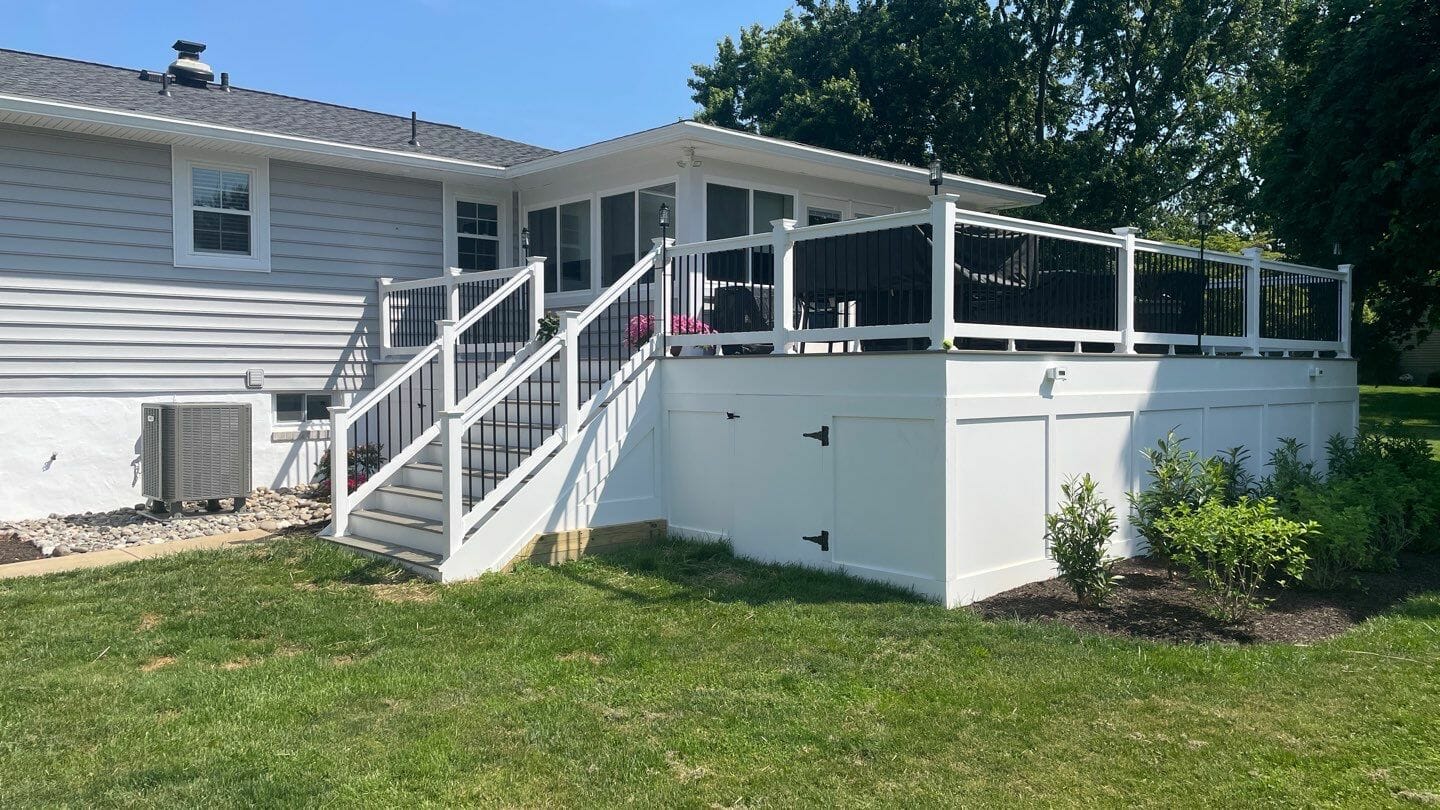 When to restain your wood deck
Staining your deck not only highlights the beautiful wood grain and improves its overall appearance, but it will also increase its lifespan by preventing wood rot and insect infestation. A wooden deck will, however, need to be re-stained throughout its lifetime. Direct sunlight can cause your wood deck to appear faded or dry. Rain will cause damage over time as it soaks into the wood and repeatedly endures temperature fluctuations. Foot traffic over time will begin to wear on your wood deck as the dirt beneath people's shoes, or animal's paws, begin to scratch the surface like sandpaper.
Let's talk about your new project!
Decks are a great way to get more out of your backyard. They can be used for hosting family gatherings, eating blue crabs, playing games, or just basking in the sun while relaxing with friends and family! We work hard for our customers and continue to provide affordable home improvements to homeowners in Pasadena, Severn, Severna Park, and the surrounding areas. Give us a call at 443-710-9133!